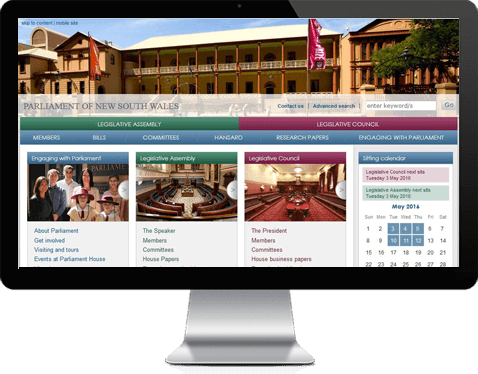 The Challenge
NSW Parliament House needed a completely new website, and approached Inzen to design it from the ground up. There were a large number of requirements for this project, having to display an enormous amount of data elegantly, whilst equally representing all departments of the Parliament.
The Solution
Inzen painstakingly adhered to the required policies, and presented three different designs to Parliament House. One design was favoured, which went through a rigorous testing, remediation and integration process. However, once complete, the site has been an incredibly upgrade for Parliament House and has stood the test of time for many years.
Complete Re-Design from the ground up
Inzen hit or exceeded all project requirements
Fresh Photography
Inzen's Photographer, Alex, did a fresh photo-shoot of the exterior and interior of NSW Parliament House which gave the entire web presence an invigorated feel.
Integrated with Parliament's internal systems
One challenge was to get the website to elegantly 'hook' into Parliament's internal document management system and display everything in real-time. With the help of Parliament's internal I.T. people, we did exactly that.
Friendly, Intuitive Architecture
The website had to incorporate literally thousands of links yet appear inviting and user-friendly. Working closely with the Parliament staff, Inzen guided the project with how best to achieve this, with exceptional feedback from staff and members of the public.
The Results Were Amazing
All NSW Parliament staff, test audiences, steering committees, specialist groups and the general public were extremely pleased with the resultant website. NSW Parliament House engaged Inzen in four new projects after the website, becoming the external creative and digital agency for the organisation. The website has been running for several years without issue and has more traffic than ever.
Interested In Working With Us?